First back-discharge heat pump patented by EU Intellectual Property Office
Mr. Silence, a heat pump so aptly named
Mr. Silence is first back-discharge heat pump patented by EU Intellectual Property Office.
It is an innovation in pool industry. Ever since its debut, it has gained more and more customer's 5-star satisfaction. The professional customers are in the best position to speak about it...
Mathieu Deleval, AllForPools, Belgium: "We increased our heat pump sales by 3 thanks to Mr. Silence. When customers see it in our showroom, they are captivated by its magnificent aluminium casing. Then they just have to hear it turn to be convinced it is a great product. We are sure that Mr. Silence will become the inverter heat pump reference in the years to come. The service and commercial support offered by Aquark is also a huge added value for our company."
Füzi Gábor, Kerex, Hungary: "It looks really like an amplifier in a concert hall! What is amazing and differs the product from the competitors is the extreme silent operation. It is as silent as a fridge in the kitchen. Besides, COP is one of the most important and most often emphasized parameters for a heat pump. That of Mr. Silence is by far the best. What is to be highlighted is the sophisticated marketing promotion and technical assistance of Aquark. Just at the product launch to the Hungarian market, the colleagues of Aquark trained us and our dealers in Budapest. The most important feedback is the customer's satisfaction. Thanks to the high product quality there was no blame, problem or need to repair at all."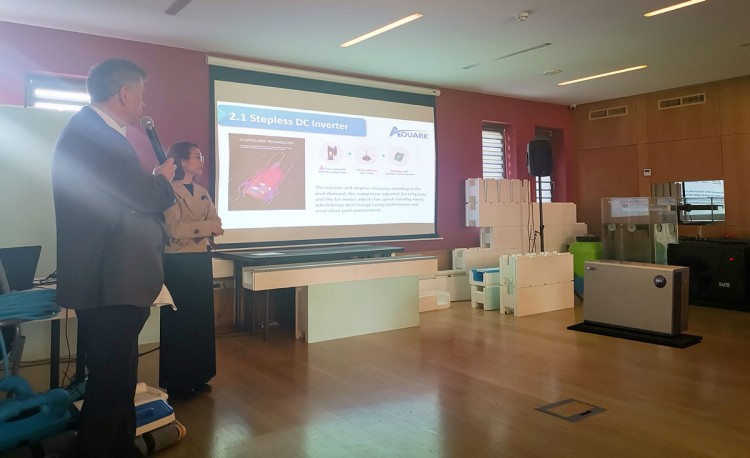 Technical training in Kerex, Hungary