An exclusive range with technological innovations
The new exclusive range of robots from Hayward comes with three technological innovations.

SpintechTM technology for a non-stop cyclonic suction
SpintechTM technology offers the AquaVac® 6 Series filter-free, non-stop, cyclonic suction and it's incredibly powerful.
Used for the first time in a water-based environment, this technology integrates 18 hydro-cyclones to create a robot with unending high performance.
HexadriveTM technology for optimal grip
Enabling it to move is its HexadriveTM technology, which allows it to grip perfectly onto any surface.
To ensure a full-on 4x4 clean down of your pool, the robot attaches itself to the bottom of it, the walls, and its steps, thanks to its 3 motors that easily guide it everywhere. Its 6 variable-speed brushes do the rest.
TouchfreeTM technology for easier use
Its TouchfreeTM technology takes away the need for a filter, which is replaced with an innovative debris collector, equipped with an ingenious and fast opening system.
Users are going to love its convenient Tug & Catch function: you just pull on its cable 3 times and this light and easy-to-handle robot will start going backwards.
Then you just grab onto its ergonomically-shaped handle with ease.
A programmable and remotely controllable robot
Conveniently, the user can also programme customised cleaning cycles into it according to their actual needs, thanks to an intuitive power supply unit installed onto the main body.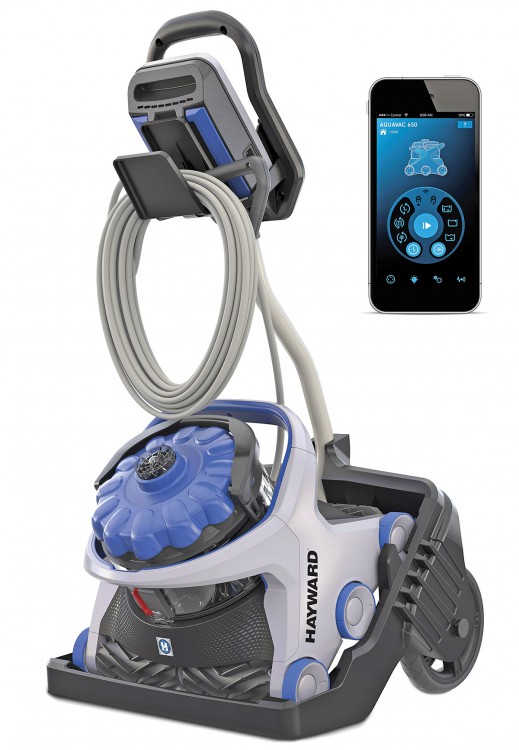 AquaVac® 650, the premium model
To complete this array of features, the range's premium model, the AquaVac® 650, is Wi-Fi enabled so that cleaning can be controlled remotely from a smartphone or a tablet.
It comes with a 3-year guarantee if the robot is purchased from a partner of Totally Hayward®.
Already rewarded
This robot has just been awarded first place at the Grand Prix Mon Jardin & Ma Maison (My Garden & My Home Grand Prix), in the "Pool Universe" category.