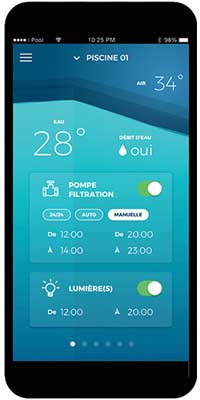 This year at the Lyon fair, WARMPAC is presenting a connected technical facility, placing the end user at the centre of its features, enabling them to connect and simplify the use of their swimming pools ...

Company president Bernard Philippe says: "Instead of designing a cabinet, we have created two, which can adapt to all technical facilities. A first cabinet informs the user of water and air temperature, as well as the water flow. They can also programme the pool filtration pump and lighting.
The second cabinet enables users to check the quality of the water: redox and pH measurements, water pressure, information on the opening/closure of the electric cover, and optionally to check the water level (overflow pools), dosing pumps for treatment products, heat pump, pool cleaners, garden lighting, etc."