Following the success of PoolGom®, then PoolGomXL®, the range of multi-surface magic erasers has been increased with the arrival of Easy Pool'Gom®, which is ergonomic and just as magical!
Fitted with a round handle specially designed for practical cleaning of water lines, this silicone eraser fits perfectly into the hand and is pleasant to the touch.
Thanks to its water drop shape, it can easily get into all corners of a swimming pool.
With a size of 18 x 10 cm, it is positioned between the PoolGom® and PoolGomXL®, and maintains the density, appearance and cleaning efficiency of the range's eraser.
EasyPool'Gom® is sold with 1 eraser. Eraser refills are sold separately.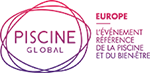 To be discovered at Piscine Global Europe in Lyon
www.piscine-global-europe.com