With over 30 years of experience in the creation and marketing of spas, PEIPS has signed a new collection of 5 spas that meet the demands of today's customers.
The new TONIC range sets the pace with the promise of invigorating massages.

For massages for 3 to 6 persons seated or lying down and supplied by 40 to 80 hydromassage jets depending on the model, these spas are equipped with water pumps (single and dual speed) and air pumps to alternate massages.

The electronics have been entrusted to renowned American manufacturer Balboa® to ensure both reliability and durability.

To enjoy a session of chromotherapy, the TONIC 1, TONIC 2, TONIC 3, TONIC 4 and TONIC 5 models are equipped with a multi-colour master LED, supported by around 10 mini LEDS that illuminate the water line. A waterfall with 4 mini LEDs also provides a soothing sound for users.

These spas can be equipped with an optional Balboa Wi-Fi system to control the spa remotely via the Balboa® application, or an embedded 2-speaker audio system with Bluetooth controls.
As for the structure, the models of the TONIC range come with a thermoformed ABS base, a silver-coloured (other colours available) Aristech® acrylic tank and grey composite wood cladding.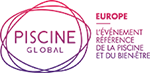 To be discovered at Piscine Global Europe in Lyon
www.piscine-global-europe.com