The Loxone AquaStar Air "starter package"
Mostly it takes a lot of time and effort so that a pool remains clean and well-kept. For this reason Peraqua offers their customers the Loxone AquaStar Air "starter package".
Pre-configured components of those fully automated backwash valve inclusive pool control features ensure that many important pool parameters are immediately available: control of filter pump, water level as well as RGB spotlights, automatic filter backwashing, ... and so on.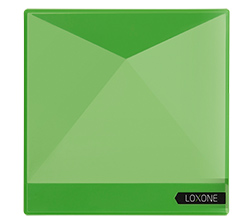 MiniServer Go
With the included MiniServer Go, the ,,core" of the pool control system, fully automated and intelligent pool control as well as supervision are possible - and everything via a smartphone.

Thanks to the free app (available for iOS and Android) the user can also remotely control the heat pump, water treatment, temperature, pH- and chlorine level and much more in
a relaxed way.

Besides a definite comfort gain the Loxone AquaStar Air also provides time for the pool owner to enjoy the pool - so that "bathing fun" remains as such.