Building on the success of its Pool'Gom® range, TOUCAN has launched the Easy Pool'Gom® that is even easier to use!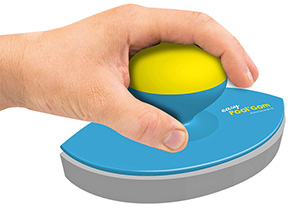 Positioned by its dimensions (18 x 10cm) between the Pool'Gom® magic eraser, designed to clean the spa tub waterline or pool waterline, and the robust Pool'Gom XL® meant for cleaning stains on the floor and walls of the pool, Easy Pool'Gom® offers a remarkable efficiency of use.
Conceived by ergonomists and specialised professionals, this new and practical eraser is equipped with a rounded handle for an easy and comfortable grip.

The silicone material that it is made of provides an excellent grip for the user's hand, as well as a pleasing texture.
Moreover, with its droplet shape, the eraser reaches into the most hard-to-clean corners!
The product is delivered with an eraser and the recharge (1 eraser) sold separately.