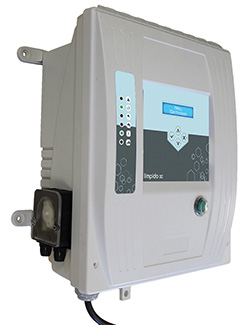 Limpido XC
A Nowadays, the ease of use, the efficiency and the reliability of appliances are important elements in a consumer's purchasing decision.
To help professionals drive the sales of a chlorinator, this year CCEI has brought out a new version of the Limpido XC: easier to use, scalable, but also more efficient and resistant over time.

To achieve this, the user interface has been improved by combining a backlit LCD display with pilot lights to monitor the proper functioning of the device: detected flow, cover closed, shock programme active, etc.

New functionalities have been integrated for reliability, such as a plate cleaning system by reversal of polarity, regulated according to the hardness of the water, and the addition of alarms to indicate a malfunction (insufficient flow, salt rate too low, or too high, etc.).

For increased user comfort, the optional Limpido ZI allows the user to manage the swimming pool directly from his living room or pool-house (from a distance of up to 1000 meters from the Limpido XC), thanks to a designer housing displaying the same interface as the chlorinator.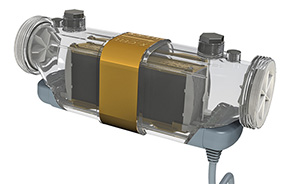 Cell X-CELL 160
Lastly, the new generation Limpido XC chlorinator comes with a transparent cell.
This feature reassures the user who can verify its status at a glance.
This cell is scalable, with a built-in slot for an acid injector.
Made of solid titanium plates, it is able to produce a large quantity of chlorine.