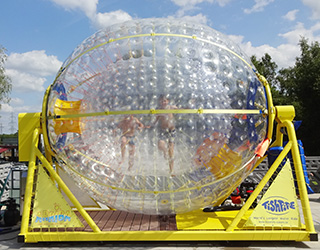 The patented FISHPIPE is the perfect additional attraction for waterparks, hotels, amusement parks, beach clubs, cruise ships and any event, with no age restrictions!
A giant double-walled rubber barrel rotates in a metal frame driven by an electric motor. The rider is located in the inner barrel and will slide due to the rotation of the barrel around him.
At a speed up to max. 45 rpm the rider will experience an absolutely unique and thrilling time. Sliding length is up to 500 meters within 90 seconds at full speed.

This brand new stand-alone unit only requires 20 sqm. for installation which is done in some hours only. It requires a low energy consumption (approx. 5 kWh) and a low water consumption (approx. 1 m3/hour). With a lightweight design, it is easy to relocate the attraction (approx. 1,5 tons). Moreover it can be used Indoor and Outdoor.

This new attraction is pure fun, bringing big time smiles to visitors and acting as an astonishing new visitor's magnet.

FISHPIPE is officially certified as "sport equipment / machine" by TÜV.