Barthelme LED Solutions has developed a fully encapsulated plastic linear LED luminaire. As a result, the Nuremberg Company offers a genuine alternative to conventional linear luminaires with metal housing.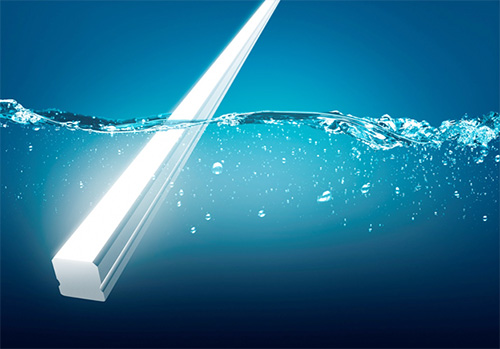 The AQUALUC S:OLID LED luminaire

The leading edge LED technology in this new lighting solution is protected by a closely meshed polyurethane-ceramic encapsulation which shields it from its surroundings. The luminaire has a rating of IP 68 and can be operated permanently underwater. Ceramic content in the polyurethane ensures efficient heat dissipation and a long lifetime of more than 60,000 hours. In addition, the linear luminaire has an impact test rating of IK 10 and is therefore highly robust.

The AQUALUC S:OLID has an evenly distributed light-emitting surface and is operated with 24 V. At 4,000 K it achieves a high brightness of 1,343 lm/m at a typical power of only 34 W. With dimensions of 17.5 x 17.5 mm the luminaire is available in individual lengths of up to 2.90 m. Two luminaires can be installed head to head without loss of light so that a continuous light line of almost 6 m can be realized.

Equipped for range of applications

This new versatile linear luminaire is ideal for a wide range of applications thanks to its excellent technical characteristics. Permanent deployment of the rigid light line underwater is possible as are numerous other applications such as use in handrails. The protective encapsulation provides resistance against salt water, chlorine, UV-radiation, abrasions and chemicals. Due to the high lumen package and beam angle of 120° it is possible to realize stylish accent illumination as well as classical functional lighting tasks. As with all products from Barthelme, the AQUALUC S:OLID is available in a range of standard colour temperatures: 2,800 K, 3,100 K, 4,000 K, 5,700 K and RGB. In addition, single colours are available on request.
About the Company
Barthelme is an innovative family owned and managed business and is one of the technology leaders in LED lighting systems. To this day functionality and design are the focus of the business that was founded in 1931 by Josef Barthelme. Luminaires from the "Made in Germany" collection are developed and manufactured with a passion for the product and for the customer at the company headquarters in Nurnberg. The manufacturer's product range includes IP protected flexible LED stripes, a variety of innovative profiles and customized luminaires through to intelligent controllers for comfortable lighting management. In this way, the Company offers high quality customer-specific solutions for expressive indoor and outdoor lighting projects - from a single source.