Backed by 25 years of experience in the design and manufacture of swimming pool and spa covers and equipment, Walter Piscine is diversifying its business by launching a new range of accessories for a diverse range of aquafitness workouts.
To this end, the company has developed a range of equipment that uses water resistance to provide efficient and pleasant workouts in the pool.
Counter-current swimming, one of the most popular of these aquatic exercises in a swimming pool, can be practiced comfortably and at low cost, using its Free Swim. Thanks to its elastic cable, this belt allows the user to swim in place, even in small pools.

For aquabike enthusiasts, the company is marketing an aquabike made of aluminium, easy to put in and take out of the water, as it is ultra-light.
The Aquaness is available in 6 models to satisfy both beginners as well as seasoned users
The Vélaqua on the other hand, offers an aquabiking session ... without pedals. This floating and sturdy machine is ideal for getting into shape by varying workouts in the pool.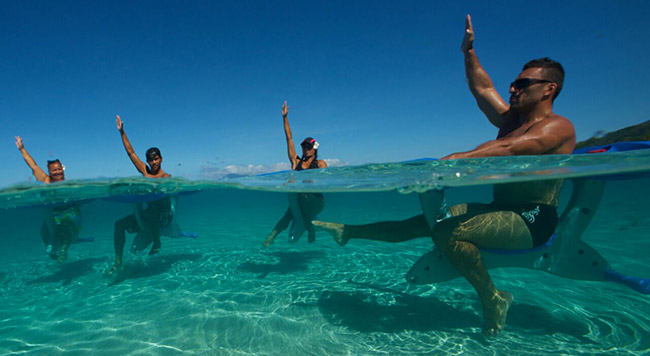 Velaqua
Lastly, to complement its training and rehabilitation range, Walter Piscine is launching a tilting water treadmill and a trampoline.
Robust and stable, this equipment from the Aquaness range is designed for two very popular sports practices, aquajogging and aquajumping.