With millions of units sold, the ball valves from Praher Plastics have a long service life thanks to a positioning ring for the ball joint made of PTFE or PE (synthetic plastic material) and a PVC body.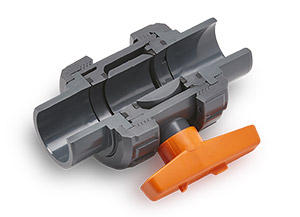 They ensure unobstructed flow of the water with no narrowing of the passage.
They are equipped with a ball valve on both sides for stopping the flow.
These valves have a double seal, are UV resistant, corrosion resistant, and are lightweight because of their composition.
They are fully tested after assembly, both for operation and water tightness.

The permissible operating temperature of these valves is +60° C /140° F, in keeping with EC VCM safety regulations.

The casing is guaranteed for 5 years with normal use.

To be discovered at aquanale in Cologne