This year the FIJA Group will host two of its partners, who have been faithful for 2 years now, on its stand: CHEMOFORM and AQUALUX for a joint exhibition.
The Group will also present its new sales organization guided by customer proximity, service, advice and responsiveness. In this perspective, new branches were opened in the regions, in particular in Saint-Quentin-Fallavier (38).
Furthermore, for the next season, a single unified DEL CLASS and AQUALUX sales team will be sent out into the field.

As for new products, DEL will be presenting a new range of bar covers for 2017. They have been completely redesigned: new options, such as movable straps, optimized voltage settings and new colours (taupe and slate grey).

The new motor for immersed covers will also be unveiled, with a reinforced and simplified power cable (an exclusivity from DEL), limit switch sensors that are more resistant and unaffected by lightning, and an extended warranty of up to 5 years.
The bar covers : a new expanded range

and smart options !

The immersed covers : still more

guarantees on the motors !

Discover also the ultra-silent and programmable variable speed pump, the E-Swim Pro (DAB), equipped with water-cooling technology that guarantees a longer life for the pump. In other words, this technology limits heat release in the equipment room and the wear of the heat-sensitive components of the pump.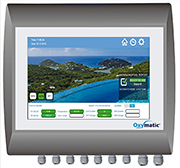 Oxymatic Smart
The Group's flagship products will also be presented, such as the Oxymatic Smart, an automatic water treatment device, and the Vesuvio Inverter heat pump.

The Oxymatic Smart uses water hydrolysis technology to treat pool water without chlorine in an environmentally friendly way.
All the pool equipment can be piloted remotely from a tablet.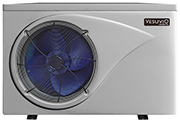 Heat pump Vesuvio Inverter
The Vesuvio heat pump family has been enhanced with an "Inverter" range, a variable compressor (20-90 Hz) and variable speed fan (300 to 850 rev / min) that greatly helps in saving energy.
These silent heat pumps operate at temperatures as low as -7 ° C, with a smooth start-up that prevents jolting, and promise a COP of up to 15 (conditions Air 26° C / Water 26° C).

To be discovered at PISCINE GLOBAL 2016 in LYON
Stand 4E48