Requested for years by customers, who were highly critical of classic security systems, which they considered ill-suited to the purpose and inconvenient to use, Abriblue has just developed the Selfeex: an exclusive patented system for mechanical and automatic safety, allowing the automatic locking and unlocking of the cover curtain.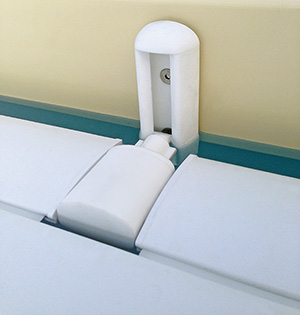 The user no longer has to manually intervene. In order to activate the mechanism, the device uses the force generated by the drive motor for the cover.
Upon closing, the cover reaches the end of travel, the stop, housed in the fastening system, fixed to the wall, which then pivots locking the fastening system.

The curtain pulls back automatically and is then taut: the cover is thus secured.
Upon opening, the shutter starts moving (in the closing direction), the stopper is again under pressure and rotates, it releases the shutter, which now returns in the opening direction. The shutter has been unlocked.

Placed in the length of the slats and not very space consuming at all, Selfeex fits perfectly into the cover aesthetics and requires no additional power source.

It is suitable for new pools as well as renovated pools and meets the NF P 90-308 pool safety standard.
The product is the subject of two invention patents; its functioning has been validated by the LNE.


Discovered at PISCINE GLOBAL 2016 in LYON