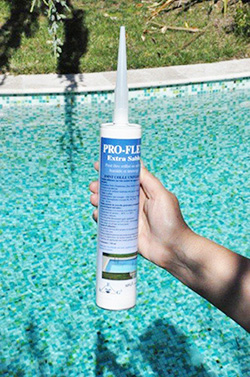 The manufacturer of PRO-FLEX waterproof joint-adhesive, now presenting the 5th generation hybrid of its well-known product, would like to propose this repair product for distribution by professional importers or swimming pool constructors.
This adhesive can be used even in wet conditions. The joint-adhesive, silicone-free, solvent-free, with no iso-cyanates and odourless, has become, over the last 20 years, one of the best allies of swimming pool specialists in their construction sites.
Approved by professionals, PRO-FLEX is able to attach and secure any type of material, in any support, in humid or dry environments, and even when immersed in water! Whether it is a liner or ABS skimmer that needs repairing, or cracks in polyester steps, tiles, hulls or curbs, sealing of projector glands, etc., the list of uses for this premium product is long. It can be painted before or after application (miscible with paint) and can be simply wiped off hands and supports with a dry cloth, with no solvent required.
PRO-FLEX is now available in 6 colours: white, blue, clear, grey, black and sand, in practical 310 ml cartridges. To differentiate itself from its competitors distributed through supermarkets, and wishing to emphasise its high quality, PRO-FLEX is available only through distributors of professional swimming pool constructor networks.

AFG Europe is therefore seeking professional distributors in Europe, willing to market the joint-adhesive in countries in Europe.