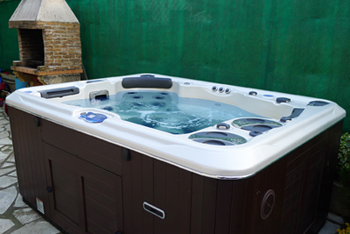 The range of Hydropool «self-cleaning» spas is expanding again with the arrival of the 395 model.
This spa with 3 wide seats and a resting seat includes an ergonomic berth and the new «S-shape» berth with its full head-to-foot body massage.
Its patented «self-cleaning» system provides independent filtration that cleanses the entire volume of water every 15 minutes, clearing deposits both at the bottom and on the water surface. This compact model, very well equipped for its size, is resolutely designed for comfort.
In fact, with its «Intelligent Massage» system, it offers its users an effective therapeutic massage, thanks to the well-studied positioning of the hydrotherapy massage jets. Its high-speed Volcano jet, in particular, provides deep massage to soothe and relax the muscles of the lower limbs.
The features of this model are a preview of the latest technical advances that will be standard equipment for the entire range of future Hydropool "self-cleaning" spas, namely, a new filter jet, placed opposite the skimmer to drive out dirt and optimize filtration, cushions redesigned for greater comfort, and finally, a new design for the blower jets that are even more efficient.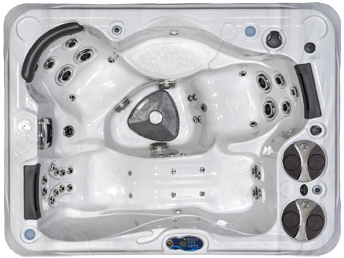 Like all Hydropool spas, its energy consumption is very low thanks to the «green» technologies used.