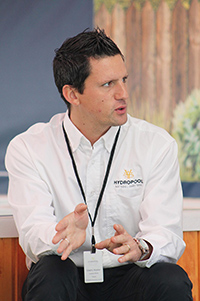 Cédric NOSLIER
The Canadian manufacturer of Hydropool spas is strengthening its position in Europe, year after year, as a leader in the spa and swim spa market. Today, with a Spanish market that is gradually recovering, the company is seeking to combine forces with its traditional local representative, loyal for over 15 years, (www.hydropool.es).


Are you looking for new partners in Spain?

Cédric Noslier, European Network Director:
"Yes, indeed. We are offering them the opportunity to join our network, in a 'win-win' relationship, so as to consolidate our presence on the Iberian Peninsula. They will benefit from our 35 years of international experience, 5 storage platforms in Europe, our know-how and a proven professionalism in the spa and swim spa industry."


What are the tools that will be placed at their disposal?

C.N: "The materials and support our future partners will benefit from are worthy of a Number 1: advertising in the local language, regular sales and technical training, monitoring and support in the business plan ... everything necessary to ensure success and sell more spas, more easily!"


Does the expansion of your network only concern Spain?

CN: "Some areas are still open in various regions of Europe, including the UK, Scandinavia, Benelux, Germany and Switzerland. It shouldn't take too long for Professionals to join us... "


- Director, Europe (+ UK / Scandinavia): Lloyd Burden / [email protected]
- Continental Europe: Cédric Noslier / [email protected]
- Central and Eastern Europe: Jaro Podkovcik / [email protected]