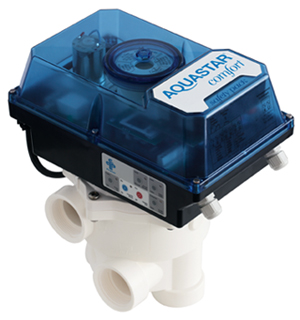 Praher Company located in the heart of Europe once again demonstrates its capacity for innovation in modern pool technology. Peraqua is offering a system regarding safety, reliability and long life cycle.
The Aquastar Comfort Safety Pack can be used whether for manual, electronic or fully automatic operation. This state-of-the art constructed control system developed by the R&D department of Praher avoids that pools are drained in case of interruption of the electric power when the valve is on position "backwash".
Supported by a high quality rechargeable battery unit the valve automatically turns to position "filter" in case of power failure. Therefore a malfunction of the "backwash" process is impossible. A LED display is helpful for the problem identification.
The 12V 0,8 Ah rechargeable battery is charged automatically, is maintenance free and the capacity is strong enough to compensate power failure up to 4 times per hour. The valve can be run up to 5 min operated by the rechargeable battery. The "Safety Pack" is available for 1 ½» and 2» models for the Aquastar 3000 – 4000 and 6500 and also can be delivered as assembly set for the latest models.