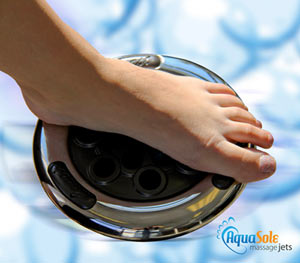 US hot-tub manufacturer Coast Spas has launched the AquaSole Massage System, specifically targeting the feet. Consisting of two large "foot massa" jets in the footwell of many of the company's models, the AquaSole Massage jets are designed to provide gentle and rhythmic massage from the top of the toes through the arch and to the bottom of the heel.
The user simply presses their feet against these jets and the swirling water action works on all the areas of the feet. Meanwhile the powerful high-flow volcano jet aims to give a totally different but complementary massage.

The two different jets and hydrotherapy pattern are designed to work together as an integrated system to rejuvenate tired and sore feet. All jets are adjustable, and water can be channelled as required by Coast Spas' water diversion controller.

The company emphasises that the feet are connected to all other areas of the human body through muscle and nerve endings, and that massaging them can have positive affects in many different areas and help with pain relief, anxiety and tiredness/soreness.