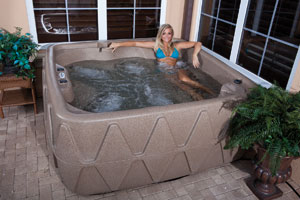 Sunrise Spas has launched a new product line in the European market, Dream Maker Spas®. It is one of the best known brands of rotational-moulded, polyethylene spas and hot tubs.
The brand was the first company to introduce the benefits of rotationally moulded products to the spa industry way back in 1997. Dream Maker Spas® et Sunrise Leisure Group employ a staff of engineers and manufacturing specialists that help ensure that the quality of the products manufactured meet the stringent company QC standards.
Along with great people, it also has one of the largest and most advanced roto-moulding machines in the world. Every spa produced is water tested for over 24 hours so that the consumer can rest assured that the spa they receive has been thoroughly checked and is ready to plug in and enjoy. According to the company, this new product line was designed with one goal in mind: everyone no matter what income level or space restrictions can enjoy hot therapeutic water on demand.