Following the success of the Barcelona hot tub, Aquavia has launched a version for public use: the Barcelona Commercial hot tub, specially designed to satisfy the needs of the most demanding hotels and clubs.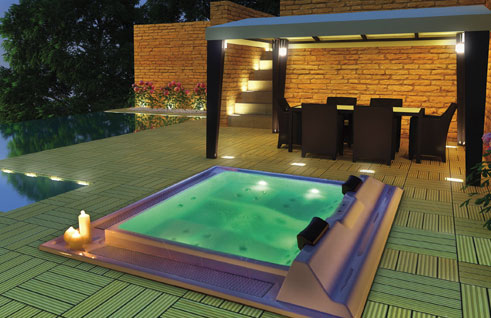 The design of this overflow hot tub with its minimalist lines makes it stand out above all others. The elevated cascade emphasises the presence of the water, which flows over the side to give an innovative effect of "infinity", thus giving it a luxurious finish and making it look like a mirror of water.
The tub has 2 loungers and 2 seats that enable up to 4 people to relax and rest in it.
The Barcelona hot tub has an array of luxury features, including its ELS lighting system. This is an ambient lighting system with five coloured LED spotlights that create the best possible feeling of relaxation. At night, the surface of the water is turned into a sequence of subdued colours.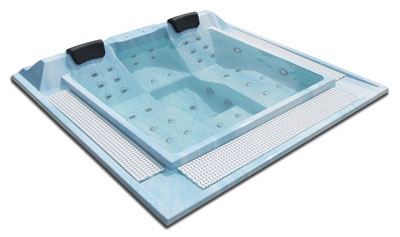 Specifications

Dim. 230 x 230 (± 1cm)
Water capacity (Litres): 1,260 l
Spa weigth empty - full: 400 Kg/1,660 Kg
Material: Acrylic

22

Jets, 12 Air Nozzles

Metallic structure

Light

2 Piezoelectric buttons

Overflow

Insulated cover: Optional

Chrome jets: as standard

Chromotherapy LED: 5
Compact kit

Filter: Ø 650
Filtration Pump: 0.82 kW
Massage Pumps: 1.4 kW
Air Blower: 1.3 kW
Standard heater power: 6 kW
Electric heater control
Ozone system: Optional
Aut. dosage + control pH and chlorine: Optional