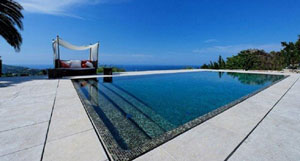 Anthracite grey mosaic and stone from Burgundy
- Ô Concept -
Thanks to the more of fifteen years of experience at the manufacturer of glass mosaic Opiocolor, the company Ô Concept, formed in May 2011, has specialised in custom designing the pools, spas and hammams of private homes or well-being centres.
It offers a wide range of glass mosaics in drawn glass in various shapes and colours - matt, shiny, iridescent, and even in 24K gold.
These decorative elements allow a client to choose, for instance, the colour reflected by the water of the pool, from a wide range of blues and greens for an effect that will certainly be luminous and original.
From there, Ô Concept extends the services that it offers to include everything that contributes to the embellishment of the lounging area that is the pool: sail shades, facing stones, paving, borders, structures and facings of hammams, always with a keen eye for harmony, refinement and elegance. An expertise that is worth discovering!
In this image (above on the left), Ô Concept has decorated a swimming pool with mosaic that tends towards anthracite grey, giving the water a deep cobalt blue, enhanced with a deck in elegant stone from Burgundy.
Emerald water colour and

gold paving mosaics

Hammam benches

Spa with mosaics

Fish mosaic ornementing the bottom of a pool