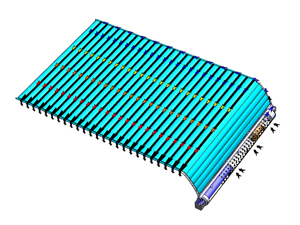 Covrex Solar
is a
secure warming and insulative pool cover in solid strips of PVC foam covered with rigid PVC with a thermal insulation
coefficient of 0.12 w (m.k). It works in conjunction with an integrated forced circulation solar panel system.
Covrex®
strips are connected by hollow elements made of very high resistance polyurethane in which the pool water is pumped and circulated. The integrated solar panel system adds 1.5 °C per day depending on the amount of sunlight. The heat is distributed evenly so the shutter cover is not damaged.
This technical innovation combines features into this shutter cover that, up till now, only existed in one other product.
This solar, thermal, ultra-resistant cover adapts to any inground or above ground swimming pool
and is available in several colors.
I
t is easy to maintain and guaranteed for 2 years.