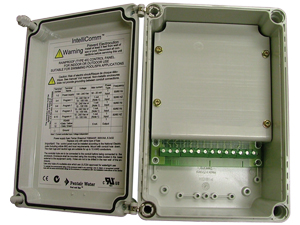 The IntelliCommTM communication center from Pentair Water
provides automated control of the variable speed on the
IntelliFloTM VS-3050 pump
.
By just connecting the input terminal connections to an automation system, a heater, a heat pump or any form of remote control, the four selectable speeds can be enabled. The speeds can each be individually defined by the user in function of his specific application.
Installation is easy and energy consumption is low (inferior to 10W), and
it is CE approved. It comes with a 2 year warranty.