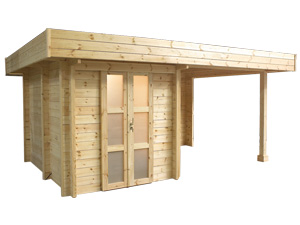 The outdoor spa/sauna cover from Wood-line has been designed to provide a Wellness solution for the home,
and is available in a number of models. The outer structure is made from solid
Scots Pine
, while the lounger is made of tropical hardwood.
The shelter is also built to accommodate a large spa, and the access hall doubles as a changing room. The product comes in three other models:
outdoor sauna with changing room (spa cover not included)
outdoor sauna only (changing room and spa cover not included)
pool-house (complete cover but no sauna facilities).