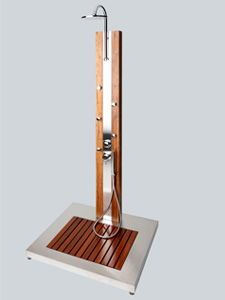 Together with well known designers, the German company
Eichenwald
has developed a new garden- and wellness-shower range.
The new developments convince the customers with straight or slender design, with a successful combination of exotic woods, eg. Bamboo or teak, with stainless steel.
Smart details, as additional body sprinklers, hand-showers or additional mirrors focus on design and function.
Mobile in the garden or fixed with hot and cold water pipes, the showers with one-handle mixer are suitable for all intended use.
The new generation of garden showers are available in different performances.
The use of wood for border decks of swimming pools is a coming trend. Eichenwald offers a new access swimming pool ladder with weather-proofed handle bar and stainless steel end caps.
The ladder is manufactured in stainless steel (V4A) and available with two to five steps. A security step as an option is possible.
The Clou
: the handle bars are removable and can be stored during the winter time.