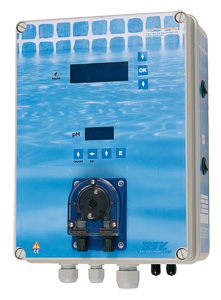 The BSV Electronic SL company
launches the
new Smart SCH-ph series
. This salt water chlorinator is equipped with a peristaltic pump. Its regulation is proportional to the reading and values of Set Point (adjustment values).
It includes the following technical features: IP56 or IP65 box, switching on of 5 outputs in sequence to avoid high starting currents and 230VAC 50-60 Hz. supply voltage. The pump measures 300 x 220 x 120 mm and weighs 2,8 kgs.
This equipment in its SCHXX-IP65 version can be produced in a box with 295 x 255 x 111mm size with IP65 protection degree to install it outside.