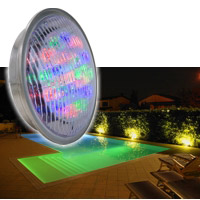 The
new PAR 56 COLOR TK PLUS®
is the updated version of the PAR 56 COLOR TK with several improvements : optics : the beam angle is wider – beam angle of 140° - and more functions are available : 9 fixed colours and 8 automatic colour games.
The optics have also been improved on the fixed colour version : new PAR 56 TKW PLUS® IP68 white and new PAR 56 TKB PLUS® IP68 blue.
The dimensions and the model of the new PLUS series are suitable for all swimming-pools and can replace the traditional PAR 56 300W 12V lamp without making any change to the existing system. The power consumption of the PAR 56 COLOR TK PLUS® IP68 is reduced (max 25W instead of 300W), and thanks to an average LED life of 100.000 hrs, maintenance and lamp changing are not needed.
With the help of a remote control it is very easy to change fixed colour or colour game. More possibilities and programming are available with the DMX versions of the PAR 56 COLOR TK PLUS® series.
The PAR 56 COLOR TK PLUS®, in INOX STEEL AISI 316 and glass is manufactured with high-power LED's (high intensity lighting), 100 % Made in Italy, patented and has a warranty of 24 months.