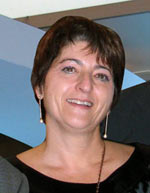 Sylvia MONFORT
In-charge of SCP EUROPE

SCP Pool Corporation is based in New Orleans (COVINGTON-USA) and is the world leader in the field of distributing and equipping swimming-pools, spas and saunas. SCP was established in 1980. Today, it has 290 distribution agencies with more than 3400 employees spread over North America and Europe. The group is listed in NASDAQ since 1995 under the name of "Pool".

Since 1998 and the buyback of NORCAL LTD in England, the SCP Group continues its establishment in Europe through a policy of repurchase or inauguration of new distribution centres. Today, SCP Europe has 14 agencies spread over 7 countries (France, United Kingdom, Portugal,
Germany, Benelux,

Spain and Italy). The latest repurchase was the Proplas Company in Spain in 2008. Mrs. Sylvia MONFORT is the In-charge of SCP – Europe.

SCP distributes more than 100 000 products of the biggest brands to more than 70000 professional clients.
SCP Europe:
- Wide choice of products including the most prestigious brands
- Sales support and technical training
- Exclusive and innovative product ranges
- Local support system ensured by deliveries and after-sales service (maintenance, repairs,...)

SCP, a dynamic and people-focused international company, is a market leader for distributing swimming pool and wellness equipment.