Twinscape Group is the leading designer and manufacturer of pool and spa floors based on its Hydrofloors® technology that transforms the use of space in any property. The company is driven by the desire to offer their customers the best solutions through a combination of creative design and precision engineering.
Combination of trusted technology and innovative engineering transforming pools and spas into state-of-the-art products
From its flagship Hydrofloors transforming pool and spa floor system, to retractable hot tub decks, retractable water bridges, moving flower beds, retractable pool walls and retractable pool fences, Twinscape combines proven technology, creative design and innovative engineering to offer customers life-enhancing, state-of-the-art products that complement the architectural vision and offer unimagined space and versatility to every type of property and every landscape.
Once closed, Hydrofloors movable floors offer full security and converts the pool into a multifunctional room or terrace. The surface can then serve other purposes such as being used as an additional living space, hosting a party or having a space to work out. The movable pool floor system exceeds a load bearing capacity of 250 kg/m2 for residential pools and 500 kg/m2 for commercial pools.

The same swimming pool in California, when the Hydrofloors® movable system is lowered to enjoy the swimming pool
In collaboration with its contractors, Twinscape designs, manufactures, installs and services this incredible water technology in the finest homes and resorts around the world.
Customers choose to work with Twinscape because of its uncompromising commitment to excellence. The company offers quality products, meticulous attention to detail and unmatched experience with a highly skilled team.
The multinational company has a local presence, with regional sales and service teams throughout North America and Western Europe.
Here is an impressive Hydrofloors project in Montana's Rocky Mountains in video:
A range of next-generation and valuable products improving lifestyle
Hydrofloors works with architects worldwide, designing, building and installing floor systems on indoor and outdoor pools of all shapes and sizes, from spectacular bespoke pools to standard sized pools. Every client can enjoy the space-saving benefits of the safest pool cover in the world.
Hydrofloors Dreamline® is Twinscape's bespoke, moveable floor system for private customers.
With the built-in Hydrofloors® floor system, the pool can be automatically fixed and out of sight in less than eight minutes. The swimming pool doubles as a dance floor, studio or even a parking space for a car! The moveable floor allows clients to adjust the depth of the pool - to create a deep plunge pool, a child-friendly shallow pool, or a medium-depth pool for exercise and water play.
The Hydrofloors retractable partition wall system separates the pool with an automatically raised wall.
Hydrofloors Pro® offers moveable flooring solutions for the hospitality industry (from five-star hotels to boutique hotels). This allows for optimisation of the space and the possibility to offer additional services to clients. There is a Hydrofloors movable floor solution for every type of project, from sublime bespoke luxury to standard sized pools.

Twinscape designs and builds retractable covers for any size of spa. The covers are made of corrosion-resistant stainless steel and can be finished in any material that complements the decor of the home. For added safety, sensors are built in to ensure the moving cover stops immediately if an obstacle is detected.
The principle is the same as a movable floor for a swimming pool, except that it is not adjustable in depth. Each project is tailored specifically to customers' requirements.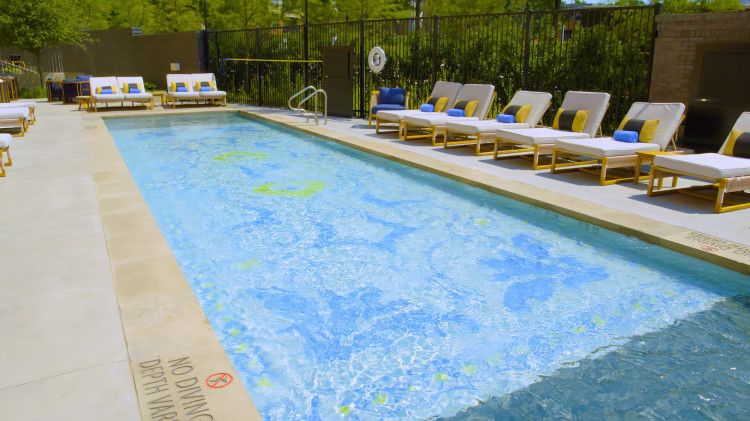 Twinscape's customer Kimpton Pittman Hotel Dallas needed to maximise every inch of its space. The operators wanted a pool for guests on hot summer days but also wanted to use the pool space flexibly. With the Hydrofloors, guests enjoy a 14 x 3,90 m pool by day, and then the space is transformed for outdoor dining and dancing by night. The space is also hired for private functions.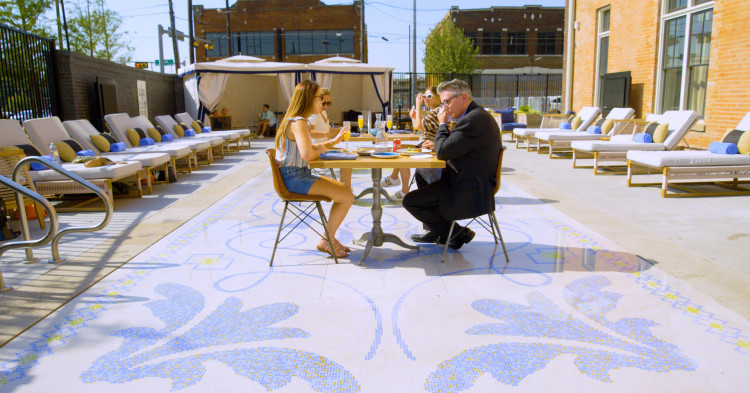 Breakfast on the swimming pool is possible with a raised Hydrofloors movable floor system