Everblue Piscines will be present at Salon Piscine Global Europe from 15 to 18 November in Lyon. The brand will have a stand covering over 200m2 to welcome members of its network and exchange ideas with them. In addition, a dedicated space will accommodate the many swimming pool specialists who wish to be part of the family and join the leader in the construction and renovation of swimming pools in France.
We interviewed, Thierry d'Auzers, Chairman of Everblue Piscines.
Happiness and Serenity on the Everblue Piscines stand at Piscine Global Europe
Thierry d'Auzers, what does this show represent for your network?
Thierry d'Auzers : Above all, the Piscine Global Europe show allows us to welcome our dealers so that they can enjoy the show with complete peace of mind. The days are long and tiring and they really appreciate being able to come to our stand where they feel at home!
We also welcome many professionals wishing to join our network. They can thus exchange ideas with our passionate and experienced partners who will also be able to measure these these candidates in relation to the values of the Everblue network and therefore their Evercompatibility.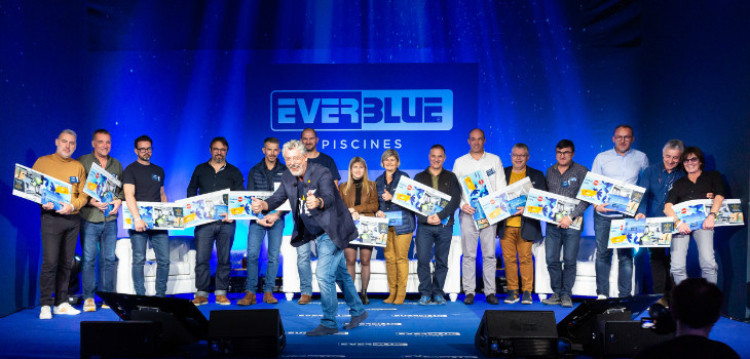 Thierry d'Auzers surrounded by dealers at an Everblue Piscine congress
The heart of our activity is humans - they are what makes the difference. While many candidates meet the technical criteria, we are also looking for enthusiasts. In the end, it is these women and men who drive our network and convey the image of our brand to end customers.
This is how a network is built, develops and asserts itself and there is nothing more effective to make it grow. While our communication campaigns advocate excellence, peace of mind, dreams and happiness, it is on the ground that all these values are expressed.
This event also allows us to follow market trends with manufacturers and distributors. So, we have 300 pairs of eyes that roam the aisles and give us valuable feedback.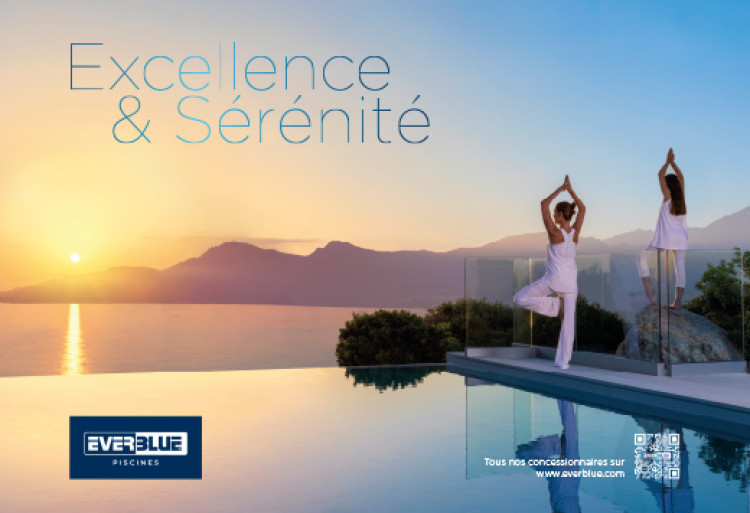 Excellence and Serenity, the values of the Everblue Piscines network
What news are you going to present?
Thierry d'Auzers : This is primarily an opportunity to exchange and share ideas between ourselves and the dealers and professionals present. It allows us to measure the dynamics of the market. Feedback from the field is essential in order to define a company's strategy. The performance of our dealers currently confirms our strategic orientations over more than 6 years. All these decisions have been implemented in consultation with the members of the network.
This show is not an opportunity for us to present new products because our products and equipment are sourced well in advance and tested with a selection of dealers, before they are placed on the market.
We are one of the few exhibitors at this show not to sell anything. We simply offer happiness and Serenity!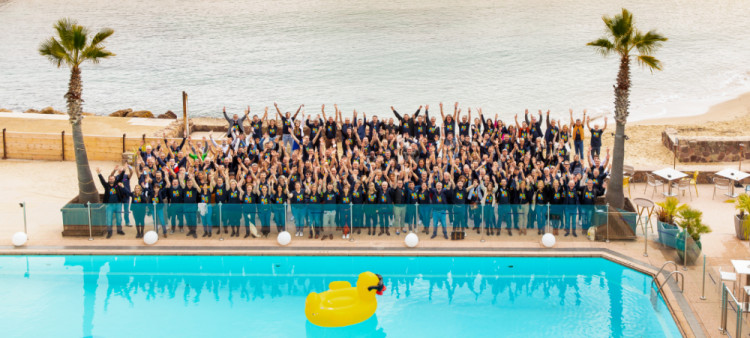 The Everblue Piscines family at a congress
Your show in a few figures?
Thierry d'Auzers : About ten people from head office will be there to welcome our dealers and those who wish to join our network. It is a moment of conviviality where more than 350 people come together to exchange ideas, share their experiences, their plans and their achievements. On this occasion, more than 500 meals are served on the Everblue stand. Like at previous editions, we will be distributing nearly 5,000 Derby Ducks, the brand's muse. You will have a good chance of seeing them in the aisles.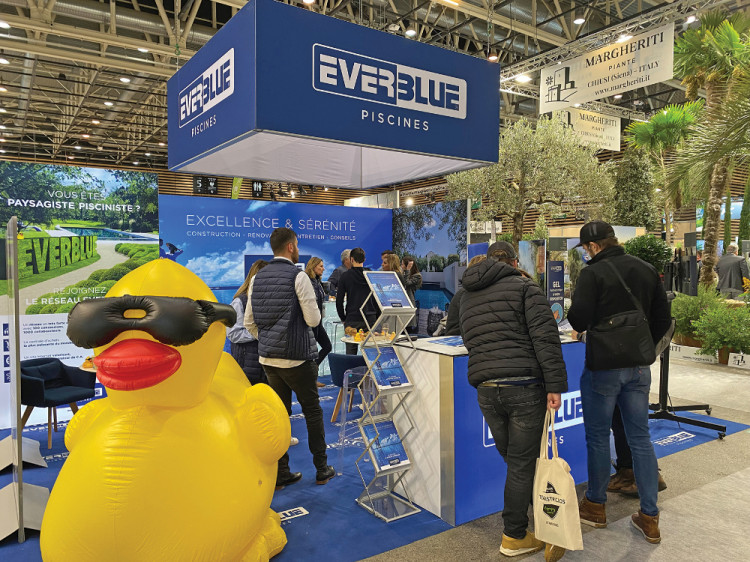 Derby Duck, the brand's muse will also be at Piscine Global Europe
What is your vision of the market?
There are factual aspects, like the health crisis that we have been experiencing for the past two years. The global tensions that we have been experiencing for some months, inflation and the uncertainties weighing on the markets. Market momentum has been brought to a halt by the crisis in Ukraine. Difficulties in the supply of raw materials and the increase in transport costs have had strong repercussions. Fortunately, our anticipation strategy has worked very well. We have the necessary stocks on our entire range of products to guarantee our dealers the supply of equipment necessary for the construction, renovation and maintenance of swimming pools.
We expect the entry-level market to suffer in coming months. Conversely, the premium market will continue to develop. And we are one of the leaders in this segment. We also observe this on a daily basis through the feedback of qualified leads via our website. They are increasing and the average basket continues to grow. Average projects are now costing more than 50 000EUR !
If the context remains particular, our vision is clear, actually crystal clear and I may disappoint you, but I won't be disclosing the strategic plan that I reserve for our dealers here. (smiles...)
Our greatest strength is the members of the network and their customers. More than 3000 people trust us every year to build or renovate their swimming pool. They are our ambassadors and we want to guarantee their satisfaction so that they allow us to continue to grow over the years to come.