T&A, a major player in the pool cover market, continues its growth momentum and recently acquired the companies Covrex and Walter Piscine.
Technics and Applications expands its range of covers and automatic covers for swimming pools
Walter Piscine and Covrex, formerly part of the family-owned company TSPH (The Swimming Pool Hub), will strengthen the European presence of Technics and Applications (T&A) and expand its product range. LPW Pools, which was also part of the TSPH group, will not join T&A.
The Belgian company Covrex, manufacturer of automatic pool covers, has built up a solid reputation since 2004 thanks to its flagship product: the insulating foam filled slat, patented and marketed under the name Covrex Classic. The Alsace based company Walter Pool, manufacturer of a wide range of swimming pool covers (movable decks, bar safety covers, winter covers, etc.), was founded in 1992 by Lucien Walter and will help to expand the T&A range.
T&A has established a leading position in the swimming pool cover market thanks to its technical expertise, high-quality products and efficient after-sales service. These same concepts will also be the key pillars for the further development of the company in its cooperation with Covrex and Walter Pool customers.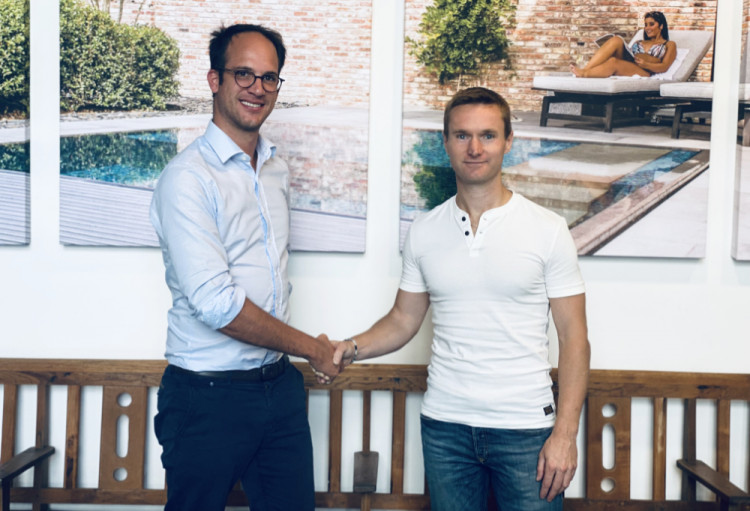 Guillaume de Troostembergh of TSPH and Joeri Dils
As part of the transaction, the employees and management of both Covrex and Walter Piscine will join the T&A team under the leadership of Joeri Dils, Managing Director of T&A and President of the Belgian Federation of Swimming Pool and Wellness Professionals.
He declared:
We look forward to working with Walter Piscine and Covrex customers to offer them a more complete product range, with the quality and service we have been known for over the past three decades.