Swimming Pool and Spa Professionals, Special PROS LANDSCAPERS allows you to explore new horizons through landscaping and outdoor architecture professionals.
A special edition for landscaping and exterior architecture professionals
A magazine broadcast at Paysalia exhibition and sent to landscape professionals
Special PROS LANDSCAPERS 2021 allows you to :
Offer landscaping and outdoor planning professionals, suggestions and ideas to promote your products among their customers.
Invite these professionals to visit your distribution networks.
Acquire new distributors and expand your core target.
Print AND digital communication targeting the landscaping sector
To help you reach the right target, the magazine Special PROS LANDSCAPERS 2021 is:
A paper magazine broadcast to exhibitors and visitors at the Paysalia exhibition from November 30 to December 2, 2021 and sent to nearly 4,200 landscape professionals
The information in this issue will also be published on our website and in our newsletters
To appear in this issue and make yourself known to landscapers, architects and outdoor landscaping professionals, contact us at contact@eurospapoolnews.com.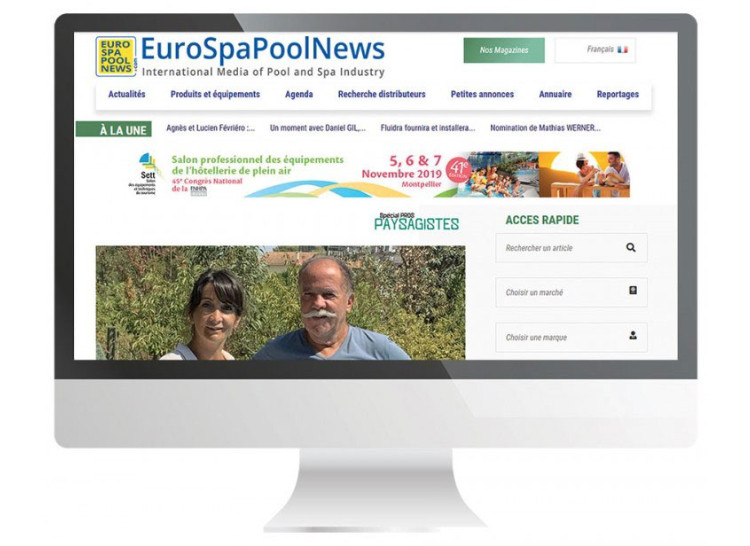 Special PROS LANDSCAPERS is also a digital communication targeting the landscaping sector
Meet the company EUROSPAPOOLNEWS.COM at the exhibition AQUANALE from 24/10/2023 to 27/10/2023
STAND N°Hall 7.1 - Stand A027