The Lyon exhibition, as always, offers the opportunity not only to meet the sales teams and heads of SCP's agencies, but also the managers of the European subsidiaries, and also the SCP Europe team led by Sylvia Monfort.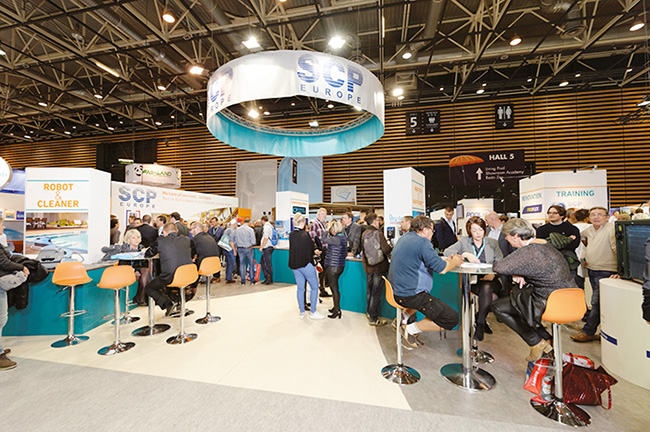 During this edition, visitors also have the occasion to talk to the company's experts in public and semi-public swimming pools.
Many installations have already benefited from this expertise in France and Europe, beginning with a personalised study of their projects. For France, Jean Seval, Antonio Munoz for Spain and Maurizio Guidetti for Italy, are the go-to contacts for professionals for these projects.

Aurélie Roussel, Head of the training programme, is also on the stand to present the new timetable of sessions and the new products for the 2018/2019 season at the SCP Academy. On the programme: water treatment, maintenance and installation of reinforced PVC.

Last but not least, the After-Sales Service and Spare Parts department takes centre stage! Presented by service expert Denis Choplain, who answers visitors' questions, this is an after-sales service that aims to be proactive. Spare parts are available on the Pool360 website and are displayed on the SCP stand.
The Croatian team is also present together with the SCP Adriatica team attached to SCP Italy.