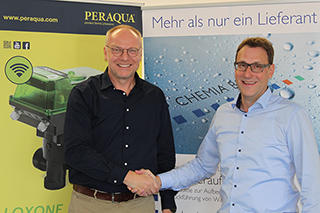 Wolfgang IRNDORFER and Michael MEIER
The new strategic cooperation between Peraqua Austria and Chemia Brugg Switzerland is offering the overall Swiss pool industry access to the high end Smart Pool Technology range of Peraqua and Praher Austria.
As of now, Chemia Brugg Switzerland with its professional sales force, its large storage capacity and its own vehicle fleet, will offer the complete spectrum of Peraqua and Praher pool products to the Swiss pool industry.
Among others: PVC valves, fittings and piping systems, Ocean pool equipment, Smart Inverter Heatpumps, ABS & SS316 pool mounting parts and fully automated pool filter systems.

"We are pleased to offer in this way an alternative high end product range to the Swiss pool market at a fair price level including professional technical support and service", said Wolfgang Irndorfer, Managing Director of Peraqua Austria and Michael Meier CEO of Chemia Brugg Switzerland.
Further details to the wide portfolio of Peraqua Professional Water Products are on www.peraqua.com or www.praherplastics.com.