Australian Innovative Systems (AIS) Chief Executive Officer Elena Gosse has been appointed to two major positions with the nation's swimming pool and spa industry peak body, the Swimming Pool and Spa Association of Australia (SPASA).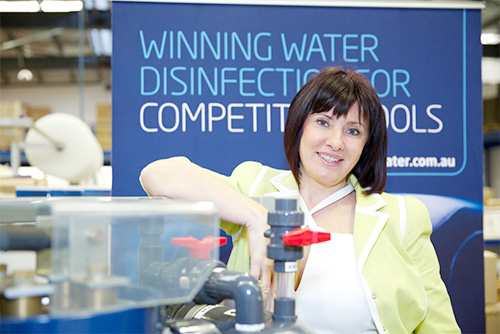 Elena Gosse
Elena has been nominated for a two-year tenure as a Director of the SPASA Executive Board and as a Member of the SPASA Australia Regional Advisory Committee (RAC). SPASA represents the entire Australian aquatic leisure industry, recognising five key pillars - people, member services, promotion, representation and corporate services - to ensure relevance and credibility to all members.

"I am honoured and excited by these two key SPASA appointments, Elena said.
"Under the current leadership SPASA has made some significant, positive changes to the way it operates. It's now very much aligned with AIS' vision and my personal values.
"It's wonderful to be part of an organisation that is focused on the promotion and growth of such an important industry and its people.
"By working with the SPASA Executive team I am confident that we can make a real difference, especially when it comes to my passions for water disinfection, public safety and supporting women in the industry."

SPASA Chief Executive Officer Lindsay McGrath said Elena's commitment to the Australian aquatic industry was exemplary and he looked forward to her contribution to the SPASA Executive Board and the RAC.

"We are delighted to welcome Elena to the SPASA Executive Board and the RAC and I am sure Elena's background and experience will add considerable value to our board and to the SPASA Culture," Lindsay said.

Elena Gosse will also be a keynote speaker at two major swimming pool and spa industry events to be hosted by SPASA on the Gold Coast in July and August.
On July 31, Elena will be a guest speaker at the 2018 Women in Leadership Seminar held during the SPASA annual conference.
On August 1, Elena will speak to the topic of "Is your pool a ticking time bomb?" at the largest pool and spa trade show in the southern hemisphere, the SPLASH! Conference and Trade Show. AIS will exhibit its award-winning water disinfection technology as part of the show.