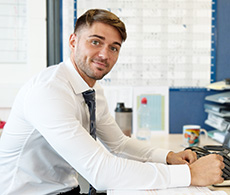 Adam Clark
In recognition of his exceptional customer commitment, Adam Clark has been appointed Golden Coast's Sales Director. Since joining Golden Coast in 2012, the former Sales Manager has demonstrated his unwavering commitment to the company, as well as its customers.
Managing Director, Jamie Adams, said: "We strive to be the very best we can be for our customers: from the products we sell to the people we employ. We expect the very best for our customers. Under Adam's leadership, we have seen the team achieve this and much more. We have every confidence that, in this new role, he will continue to do an outstanding job."

Commenting on his new appointment, Adam said: "I'm truly grateful and humbled by this promotion. I would like to express my immense thanks to the Board of Directors, for the confidence they have placed in me."
"My job title may have changed, but, what hasn't is my determination that our customers benefit from industry-leading support. My aim is to ensure Golden Coast is the wet leisure industry's distributor of choice… and I'll do everything I can to achieve that."

In the new role, the father-of-two will oversee the company's technical sales team. This group of seven wet leisure experts works closely with installers to ensure they achieve the best results, whatever the project: from simple upgrades to complex, multimillion pound tenders.