The fifteenth annual World Aquatic Health™ Conference (WAHC) will be held October 10-12, 2018, at the Charleston Marriott in Charleston, South Carolina. The WAHC is an extraordinary educational conference for aquatic industry professionals to discuss, learn, and network with like-minded people.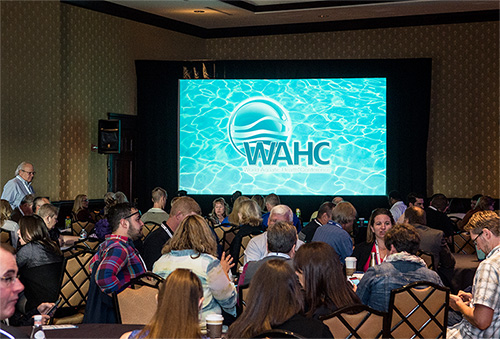 Each year, attendees report having gained new information and valuable connections that directly benefit their field of work. WAHC 2017 was NSPF's largest conference in history, with 420 attendees representing 12 countries and with speakers hailing from America, Canada, Israel, and the United Kingdom.
This scientific conference is filled with seminars covering a variety of topics, such as Health Benefits and Aquatic Therapy Techniques, Drowning Prevention, Facility Management, Public Health, New Technology, Advanced Chemistry, Advanced Service Concepts, and the MAHC. Attendees also enjoy Pre- and Post-WAHC meetings and events.

Numerous organizations, such as USA Swimming, Aquatic Therapy University, and Water Safety USA, choose to conduct events surrounding the WAHC, as conference attendees represent the convergence of the entire aquatic world collaborating to learn and grow. Organizations interested in hosting a meeting to coincide with the WAHC 2018 may reach out to conference@nspf.org.

The WAHC also offers poster presentations, tabletop displays for sponsors and non-profit organizations, an insider's tour of local facilities, a welcome reception, and a closing reception with prize giveaways, including a complimentary 2019 WAHC registration or booking at the WAHC host hotel.

The National Swimming Pool Foundation® (NSPF®) is the host of the WAHC, and the conference team is once again at work to create a memorable and educational experience for all. The Call for Papers is in effect until February 2, 2018, for all parties interested in speaking at the WAHC 2018.
To discuss sponsorship opportunities, contact the conference team via email at conference@nspf.org or by phone at 719-540-9119.
About the World Aquatic Health™ Conference

The leading global aquatic research forum, the WAHC is tailored to educate professionals involved in all aspects of aquatics: those affiliated with aquatic facilities, pool and spa industry, service providers, consultants, parks & recreation, water parks, manufacturers, academia, associations, builders, community organizations, distributors, hotels, government, health/medical, retail, and media.

About the National Swimming Pool Foundation®

We believe everything we do helps people live happier and healthier lives. Whether it's encouraging more aquatic activity, making pools safer, or keeping pools open, we believe we can make a difference. To further this mission, in 2016 we combined forces with GENESIS®, an educational leader for designers and builders of residential pools and spas. Together with GENESIS® we offer products and programs that are technically sound, convenient, and beautifully designed. In 2012, we launched the Step Into Swim™ Campaign, a 10-year initiative to create one million more swimmers. Founded in 1965 as a 501(c)(3) non-profit and located in Colorado Springs, Colorado, NSPF proceeds go to fund education, research and to help create swimmers.
Press Release