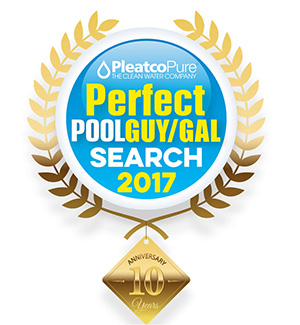 Pleatco, LLC, a leader in pool and spa filtration products, and longtime co-sponsor GENESIS®/National Swimming Pool Foundation®, today announced the winners of the 2017 Perfect Pool Guy and Gal Search!
The annual Pleatco PoolGuy/Gal Search is an innovative way to honor the hard-working men and women of the pool and spa service industry.
With over 100 contestants, this year's entrants were as impressive as ever.
This year, Paul Oliver, of Austin, Texas, won the prestigious title of Pleatco Perfect PoolGuy 2017. "When we made the calls to Paul's references in the final judging stage every single person commented on his great customer service, honesty, and integrity, and they universally testified that he is one of the most passionate and dedicated pool guys in the industry," remarks Howard Smith, CEO of Pleatco. In response to winning the award, Paul replied, "The quest for perfection has no final destination, it's a continuous journey that I'll forever be on. The Pleatco Family and Patriot Pool and Spa have let me know that I'm truly on the right path and where I need to be."
Paul OLIVER

Perfect PoolGuy 2017

Roberta PRYGON

Perfect PoolGal 2017

This year's Perfect PoolGal 2017 is Roberta Prygon, from North Cranbury, New Jersey. "Roberta brings her "A" game to work every day and she makes all her co-workers feel wanted, happy and part of the TEAM! She has chlorine for blood and her PH is always perfect." says John Migliaccio who nominated her. About winning, Roberta remarked "I am stoked to have been chosen as this year's winner. To be recognized and regarded so highly by my co-workers, clients, peers, family, and friends is overwhelming and humbling. I love my job and the amazing people I encounter on a daily basis!!!!! Thank you all again for this honor and everything associated with the contest. I look forward to the whirlwind of adventure."

With so many worthy entrants, Pleatco once again expanded the contest and created additional awards. "During our final interviews, we were impressed by the caliber and diversity of so many individuals that we felt it was proper to recognize the outstanding achievements of several other entrants," says Battista Remati, CMO. "In that spirit, we selected contestants for Special Awards based on their contribution to their community and the pool and spa industry."