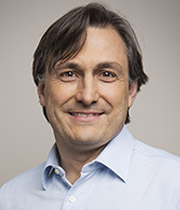 Jon Lopez Inchaurbe
HAWARD are proud to announce the appointment of Jon Lopez Inchaurbe as Managing Director for Europe. Starting in July 2017, he is in charge of Hayward Pool Europe, Kripsol and Sugar Valley.

Jon was formerly deputy chairman of Hiab, a major provider of on-road and forestry handling equipment. Prior to that, he held general management positions in the consumer goods industry for Shad and Roca Sanitario.

Jon holds a degree in industrial engineering from the Technical University of Madrid, a diploma in lean manufacturing from the University of Tennessee, Knoxville, and has completed the Executive Education Program of the IESE Business School in Spain.
Returning to his native Spain after four years in Copenhagen, Jon is now based in Madrid. He speaks Spanish, English and French.