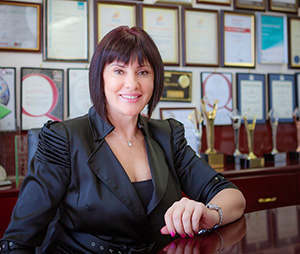 AIS CEO Elena GOSSE
Innovation and excellence in Australian manufacturing, along with outstanding business acumen were recognized today with the announcement that Brisbane based Australian Innovative Systems (AIS) has won four Stevie International Business Awards (Stevie IBAs).
Led by CEO, Elena Gosse, AIS specialises in the design, production and supply of inline chlorine generators for residential and commercial swimming pools and aquatic facilities.
Gold Stevies were awarded to CEO Elena Gosse for Executive of the Year -Manufacturing with AIS also winning the Company of the Year (Manufacturing, Small) category. Elena received a Silver Stevie for Woman of the Year and AIS scored a Bronze Stevie for Most Innovative Company of the Year - Up to 100 Employees.


The International Business Awards are the world's premier worldwide business awards program with the 2017 awards receiving a record 3,900+ nominations from more than 60 nations and territories. Winners were determined by the average scores of more than 200 executives worldwide who participated on 12 judge juries.

The judges' comments on Elena's leadership included, "Elena has risen out of obscurity into the limelight by determination, focus, discipline and capability for balance," and, "A well rounded leader who has delivered on many fronts."

Other judges' referred to AIS' proud 25-year history of innovation, "An impressive record of innovation," and, "It is crystal clear that AIS' focus on innovation and strengthening its research and development capability has given it outstanding market position against its competitors."

AIS CEO Elena Gosse said that the awards recognised AIS' expertise and commitment to excellence.
"As a company we are passionate about developing safer, simpler and smarter technologies for water disinfection. We are dedicated to eliminating the spread of disease in recreational water and to end dependence on hazardous chemical dosing.
"For me, and our team to be acknowledged by the international business community for our efforts is a great honour. It further strengthens our resolve to be the world's leading brand in water disinfection for swimming pools."
More information about the Stevie Awards