New products of Aqua Cover, the manufacture of automatic covers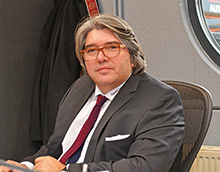 Frédéric POTY
AQUACOVER, specialising in the manufacture of automatic covers, recently developed a number of new products that were unveiled at the last Salon Piscine Global - Lyon, particularly in the field of swimming pool covers.

The innovative Cover Lock automatic locking system, highly acclaimed by the market, is one of them.
In addition, the manufacturer has further developed its aboveground cover system, the Exterior Cube, with solar power supply.
The huge success of the aboveground bench is due, in particular, to its fully dismountable structure.
Cover Lock
This has an enormous advantage over conventional aboveground slatted covers, and greatly simplifies logistics and mounting.
Protective tarpaulins have also been added to its catalogue, intended to protect the aboveground benches that shield the mechanism of the automatic covers, effectively protecting them from dirt, leaves, etc. all through the winter. In addition, their lively colours bring a touch of cheerfulness to the surroundings of the pool.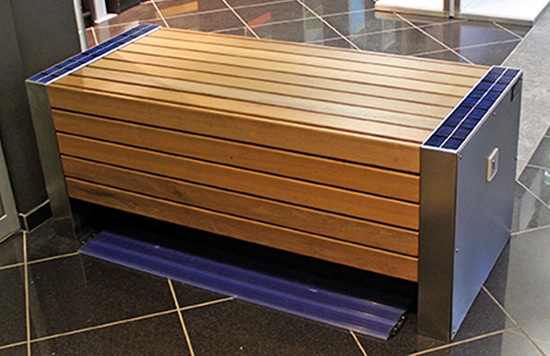 Exterior Cube Solar

Also worth noting is the new polycarbonate slat, Metal Look, with a golden bronze finish, an offshoot of the very popular «Alu Look» slat.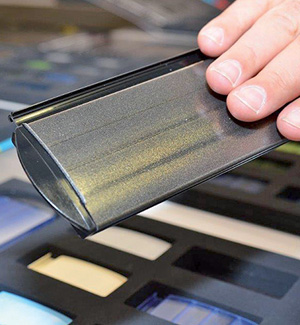 Metal Look
Both offer high mechanical strength (4 times stronger than a PVC slat), heat distortion that is significantly slowed down, and thus a longer service life.
In addition, AQUACOVER has obtained its certification of compliance with the NF P90-308 safety standard on a series of polycarbonate slats.

Evert Jan DE SMET and Frédéric POTY, showing s the new presentation folder used by the resellers for PVC and polycarbonate slats
Its Cover Clean cleaning product for the upkeep of cover slats is available in 5-litre drums to remove any algae that forms on the slats.
The manufacturer's products are not marketed directly to private individuals but by certified installers, carefully selected and trained to install them in the workshops of the company, which also accompanies any new customer.
Finally, investments made in a laser cutting-machine and a press brake, now allows the company to manage customised parts and respond more quickly to specific needs.