Following the acquisition of the Spanish manufacturing company, Kripsol, by Hayward Industries, we met Richard LACHANCE, International Vice President in charge of Europe, who answered our questions.
Why did you buy Kripsol?
The strategic initiatives of the Group were motivated by the fact that Europe holds the second largest installed base of pools in the world, so it was important for Hayward to have a manufacturing footprint in Europe. This, in servicing local markets and developing products for the European market from a European site.
We have been looking at a number of companies in Europe and found that there were good synergies between our products and the Kripsol and Fiberpool products, which strengthened our resolve to develop equipment for public pools. Furthermore, this acquisition brought us two industrial sites that will provide products on a global basis.
Some products are international, but others are specific to the European market. For the latter, we wanted development to be handled by the European marketing team, which is the most likely to understand local market needs.
So the products manufactured by Kripsol will eventually be sold in Australia, or in the U.S.A. Is it right?
That's right. For the European market, Kripsol will remain an autonomous entity highly efficient in exports, which will sell its products through its network. The company is well positioned in Spain, with products that complement our Hayward product offer. We will therefore continue to develop the two brands in Europe.

The Kripsol brand is not well known in the U.S.A., so the products for public pools will be distributed there and in Latin America, Australia and Canada under the Hayward trade name; the Kripsol brand will be exclusively dedicated to the European market, including those of Eastern European where it has a strong image. The Hayward brand remains a strong brand in all EMEA markets.
Hayward Industries will accelerate development of new products locally to respond to the needs of European markets.
Kripsol and Fiberpool have the expertise and the know-how to manufacture polyester filters, which we did not manufacture before. Hayward will provide them the financial resources to optimize the industrial tools we now have.
We use integrated manufacturing processes and we are highly automated. At Hayward, we produce about 90% of the products we sell.
We now have 2 Kripsol manufacturing sites in Europe; one in Orledola with Fiberpool, and the other in Yuncos, to the south of Madrid, with Kripsol. Our strength is knowing how to integrate other companies into our environment and make them very productive entities.
How is Hayward structured in Europe?
| | |
| --- | --- |
| Daniel GIL | David ACCENSI-MONENY |
Our geographical sectors are divided into zones. The Sales Manager for France and Maghreb is Daniel Gil, who works with a sales team where each member is in charge of a sector: North, South, East and West.
We also have a Key Accounts Manager, a Training Manager and a Technical Manager.
Daniel Gil is also in charge of Northern Europe, with 3 sales representatives that manage the UK, the Germany-Austria-Switzerland-Poland region, and the Scandinavia-Benelux region respectively.
Another team, led by David Accensi-Moneny, is in charge of Southern Europe, Eastern Europe and South Africa.
We have grown from a sales staff of five in 2012 to nearly 15 sales and technical associates now in Europe: 8 in France, 4 in Spain, 1 in Italy, 2 in Germany.

Our Hayward logistic platform including after-sales and Customer Services for Hayward Pool Europe is located in France, near Lyon, in Saint-Vulbas (01).
Where are you with your strategy for Europe?
Our 5-year strategy (2012 to 2017) was very clear. We certainly wished to strengthen our presence in the European market by having an industrial base. We wanted to provide an organization with a greater autonomy. In fact, it was crucial to ensure that our products were developed in a coordinated manner, together with the Australian and European entities. I think one of the great changes in recent years at Hayward, is that the development of our products has become more internationalised and less "US-centric".

The second aim of this strategy was to expand our sales and technical team. Our Regional Sales Managers have completed hiring in their respective markets and we now offer a greater coverage and education to the trade.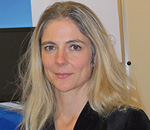 Claire POINT
In addition, we had to build a strong marketing team in Europe. Claire POINT has taken charge of this. She has developed various marketing products like the Totally Hayward* program, with the aim of making Hayward's brand image in Europe much more visible and assertive.
In summary, our strategic priorities included development and introduction of new products as well as expanding our commercial sales and marketing teams to ensure sustained growth.
Our average 15% annual growth rate in Europe over the last 3 years has been greatly appreciated. These investments have paid off and we expect more to come.