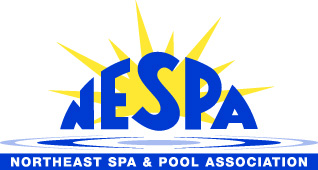 The Northeast Spa & Pool Association inducted its 2016-2017 Board of Directors at the Association's Annual Membership Meeting on September 20th in Saddle Brook, New Jersey.
The following members of the Executive Committee for the association were sworn into office:


President
Irene Insignares, Cool Pool & Spa, Nanuet, New York

Vice President
Ronald Falcioni, Darien Pool, Darien, Connecticut

Treasurer
Barry Kenny, Bel-Aqua Pool Supply, New Rochelle, New York

Secretary
Mitch Katz, ELITE Landscaping, Poughkeepsie, New York


The Board is also comprised of representatives from the Northeast Spa and Pool Association's four Chapters as well as Directors at Large.

Directors At Large
Jeff McGalliard, Premier Pools & Spas
John Lochren, Solar Pool Enclosures
Robert Blanda, Mill Bergen Pool Center

Connecticut Chapter
Ronald Falcioni, Darien Pools
Bob Russell, Glen Gate Company
John Romano, All American Pools & Spas

Long Island Chapter
George Kazdin, Kazdin Pools, Inc.
Barry Kenny, Bel-Aqua Pool Supply
Kyle Chaikin, Chaikin Ultimate Pools

Metro NY-NJ Chapter
Mitchell Katz, Elite Landscaping, Inc.
Linda Voshardt, Bel-Aqua Pool Supply
Bob Baron, Baron Pool Service

Penn-Jersey Chapter
Joe Koch, Blue Wave Pools
Barb Shopf, Integrity Pools
Landon Eafrati, Jet Line Products

"As we look ahead to the coming year, I hope to focus on expanding and improving our communications within the association as well the industry as a whole," said newly elected President, Irene Insignares. "There is no better team to work with to achieve this goal than the men and women who have stepped up across our region and volunteered their time to serve on our Board this year."

During the Annual Membership Meeting the association thanked long-time Board members, Chas Bogardus (Budd's Pool Company) and John Migliaccio (The Pool Place). As they rotate off of the Board after many years of service, they were thanked for their time, dedication and passion for the industry.


About the Northeast Spa & Pool Association

The Northeast Spa & Pool Association (NESPA) is the Northeast affiliate of the Association of Pool & Spa Professionals (APSP). Founded in 1958, NESPA represents the pool and spa industry in the Northeast and serves members through extensive training programs, safety promotions, design competitions and compliance education.
Press Release