Montreal, QC, July 15, 2015 - Vortex Aquatic Structures International (www.vortex-intl.com), a manufacturer and world leader in aquatic play landscapes and entertainment solutions, announced that its President and CEO, Stephen Hamelin, has been named a finalist in the Québec region of the prestigious EY Entrepreneur Of The Year awards program, an annual program that recognizes the innovation and achievements of Canadian entrepreneurs.
Hamelin is one of three finalists in the manufacturing category, recognized for having developed industry-leading aquatic play solutions and water management systems that conserve water and energy while maintaining playability.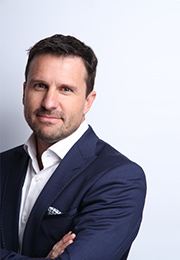 Recognition Places
Hamelin Among Top
Entrepreneurs
in Canada
Hamelin turned his one-person operation into the world leader in aquatic play landscapes and entertainment solutions, employing more than 130 employees and manufacturing hundreds of different products used in more than 6,000 installations in 35 countries including at Walt Disney Resorts, Ritz-Carlton Hotels, Miami Metro Zoo and cites like NYC, Montreal, Los Angeles and Paris.
"At Vortex, our core values support our vision and shape our culture throughout the organization. Our commitment to integrity and trust, to collaboration and innovation, and above all, to fun," Hamelin said.
"The EY recognition really belongs to everyone in the company. When families engage with our products we want them to have a wholesome, exciting, fun and memorable play experience in safety. We hold ourselves to the highest standards. We deliver aquatic solutions to meet all of our clients' needs without compromising on our principles."

In June, the company received a 2015 MVP Award from Aquatics International Magazine for its new Watermark product, an architectural installation that creates patterns and words by synchronizing lights and manipulating the flow of water. Earlier in the year, the company's Water Journey™ aquatic play solution was recognized with a GRANDS PRIX DU DESIGN Award at its 8th annual gala.