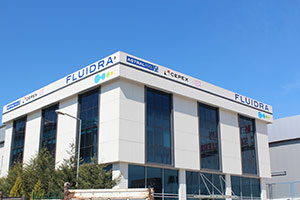 New building
The commercial company Fluidra TR and the manufacturing company Turcat are joining together physically in new installations in Tuzla (Istanbul) so that they can deliver a better service to their clients.
A new industrial unit of 4,000 m² consists of 3,000 m² for manufacturing and storage, 600 m² for offices and 400 m² of showroom with an area devoted to training.
This change in location is accompanied by a change in image, which will help Fluidra grow in the region.

Tarik Karaoglu, Manager of Fluidra TR said, "I am very satisfied with our new building and optimistic for the future. We will be closer to our customers, we will do more training with them and I'm sure this will have positive results for all of us".
| | |
| --- | --- |
| New showroom | FLUIDRA Turkey team |
FLUIDRA TR
Aydinli Mah. Birlik Organize Sanayi Bolgesi 1 Nolu Cad. No:3
34953 Tuzla / Istanbul
TURQUÍA
+90 216 387 05 56
+90 216 370 14 91
[email protected]
www.fluidra.com.tr