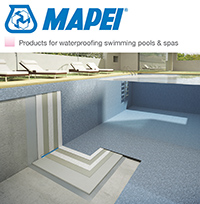 As the world's largest manufacturer of adhesives and chemical products for building, Mapei has more than 75 years' experience, and is a specialist in technologically advanced products for the installation of all types of wall and floor coverings.

The company's 15 product lines – which include products to install ceramic and stone materials, and resilient and wood flooring; waterproofing; concrete repair coatings; industrial flooring; sealants – provide a product, system and solution for all types of construction projects.

Mapei has exhibited its extensive range of waterproofing products especially designed for use within swimming pool and spa areas at the 2014 Spatex exhibition, and has been demonstrating system panels for typical installation scenarios. The company's specialist building and waterproofing advisors has been on hand during the event to help with technical or installation queries.