The Well-being seminar was held in Rodez, from 23rd to 25th October, in the magnificent setting of the Hostellerie de Fontanges.
The entire chateau, dating from the late sixteenth and early seventeenth century, was reserved for the occasion, allowing SCP to arrange the site in the spirit of the seminar, with spas installed on both sides.
Indeed, five outdoor and water spas were placed around the pool and in proximity, and five spas installed indoors for the Well-being exhibition, at the disposal of the professionals who gathered there. This allowed them to actually discover the pleasures of a spa and test them better.

The 5 SCP agencies were present and assisted their customers or business prospects from their zones.
| | |
| --- | --- |
| Dr. Xavier DAROK | |

The seminar programme:
"Providing financing solutions", conducted by Jean-Claude Lacaze and Philippe Galudec;
"Spa Selling Techniques", held by Denis Monnerat and Jean-Didier Jobin;
"Communicating and handling the customer file", with Nanette Callens taking the podium;
"Sales Training on the Beachcomber range", headed by Pierre Sauvé, Business Development Director of Beachcomber Quebec;
"Sales Training on the Garden Leisure range", with Jim Jones, Vice President of Sales at Dynasty Spas, and Denis Choplain;
"Treating and maintaining your spa", conducted by Dr. Xavier Darok.
During the seminar, a mini well-being exhibition allowed participants to discover and closely examine spa equipment in the company of the various speakers, who were pleased to explain the training modules in more detail, answer the many questions and help in firming up development projects.
| | |
| --- | --- |
| The public spas range managed by Jean Seval | Range of replacement equipment from Balboa |
They were also able to attend the Beachcomber Technical Training workshops conducted by Pascale Poirier.


A wonderful gala evening, during which many prizes were awarded, gave a festive and convivial touch to this unique seminar devoted to Well-being.

| | |
| --- | --- |
| | |
| Jim Jones (left) - GARDEN LEISURE presenting the award to Jean-Louis ALBOUY | Jim JONES shaking hands with Pierre SAUVE - BEACHCOMBER |

The final morning, with focus on the directors of each SCP agency and its sales team, was devoted to the results of the seminar and drawing up personalized projects for the professionals close to their sectors.

To appreciate a spa bath...

During these three days, we were able to obtain many testimonials, and also this interview with Benoît Rivière, Product Manager at SCP France in charge of exclusive products, especially the Garden Leisure and Beachcomber Spas, and organizer of this "well-being" event.

Loïc Biagini / EuroSpaPoolNews: Benoît Rivière, how did you get the idea of creating this Well-being seminar? A first in our pool industry, I believe?

Benoît Rivière / SCP France: The idea took shape from the impressions one gets in the field when we go to meet our business customers and pay attention to their needs. The objective of this first spa convention was to respond to their expectations, giving them the tools for success, to help them create product offerings that differentiate and set them apart from the purely swimming pool sector and profession. Offer and bring a new vision to our profession by providing the opportunity for entrepreneurs to have several strings to their bow, with the aim of generating additional and sustainable revenue, creating a business that is different in their shops, thanks to spas, products and peripheral services (chemicals, accessories, maintenance contracts). This allows our retailers to capitalize on sales throughout the year and not be solely dependent on the pool business and the weather! Of course, spa products are not new, but for some, this seminar was the factor that triggered their initial investment in a well-being oriented showroom.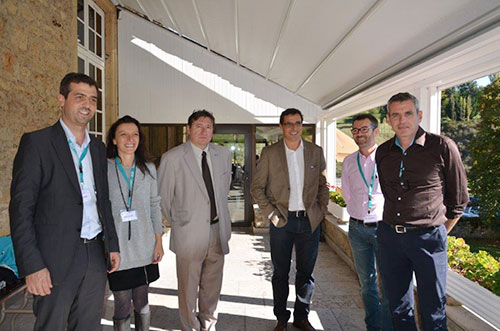 From left to right: Benoit RIVIERE, Nanette CALLENS, Jean SEVAL, Daniel BOS, Philipe GALUDEC, and Jean-Louis ALBOUY

LB: How many professionals have you brought together at this seminar?

BR: More than 52 companies, which represent, with business leaders and their teammates, nearly 95 customers, to which we can add the SCP sales force, which makes 130 people. Companies from across the hexagon, as customers from Deauville, Perpignan, Brittany, the Lyon region, Aix, and Bordeaux attended ... so really, client partners who came from all the regions and who understood that to succeed in the spa business, the training programmes proposed and provided by the SCP France and SCP Europe teams are essential to the development of their businesses.

LB: Tell us about the seminar programme

BR: The programme prepared for this seminar was not intended to speak only of one spa product, but rather to give our client partners the opportunity of acquiring a global vision of the well-being and spa metier, with training that is both technical and commercial. Our SCP financial service, during the workshops, addressed the aspect of spa financing to provide additional service and turnkey solutions to the entrepreneur to explore funding opportunities and allow our professionals to build a real showroom in their stores. We also wanted to explain and put pool builders in contact with our financial partners who specialize in retail lending, so that each dealer has the possibility of offering its customers funding specially meant for spas.
In addition to training in chemical products, public spas, and a training module on spa marketing, we offered our Spa retailers a marketing calendar. The purpose of this Marketing Calendar is to formalize all the actions to be taken by all our customers in 2014 on various themes. These actions are modifiable and can be adapted and fine-tuned by the marketing department of SCP France, according to the need and the type of events that the client organizes throughout the year. Flexibility is the key word for SCP, since the objective is to give independent entrepreneurs the professional tools suited to their local market.

LB: In a company, should there be a person, a team, dedicated to the spa? What is your policy regarding this?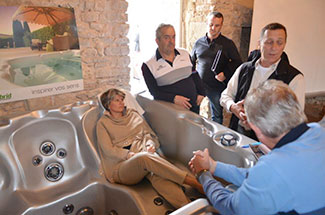 BR: It is obvious today that selling a spa represents an investment. This significant investment should include setting up spas in the store, but also and especially people who are dedicated and trained in this business that is fundamentally different from that of the pool, although it is complementary. The professional has every interest in adopting this approach and being willing to invest in staff, to have technical and sales training. For the head of a company, the investment in women and men will be the cornerstone of its success.
SCP has the obligation and the desire to support and train entrepreneurs and their employees so that they become well-being experts. People will thus be able to find in the stores of our retailers selling the Garden Leisure Spas and Beachcomber ranges, personnel that, after this Well-being seminar, have a perfect knowledge of the SCP spa ranges and peripheral products, such as spa accessories, games, or our treatment range dedicated to ACTI'spa and Aquafiness spas.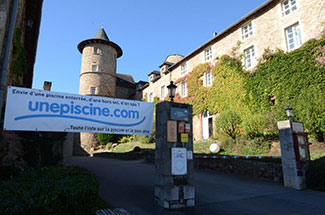 LB: Your idea of offering a bathrobe to each one so they could try out the spas was great. Did you have something in mind?

BR: Yes, our approach was deliberate. The bathrobe that we offered each of the 95 clients was the best way to encourage our dealers to discover the pleasures of the spa, because to sell a spa, one should TRY it out. Today we are in a market that is not yet mature, even though SCP has been offering spas for a long time in France and Europe. Beyond the training, I think it's essential that SCP customers adopt and understand products from the different spa brands on the market. To adopt a brand, a product, a marketing concept, the best thing to do, to be more confident while selling it, is to try it out yourself. This testing and trying are essential to our approach and I am delighted at the enthusiasm our customers displayed these three days, trying out spas and thus perceiving and understanding the differences between each of the water spas in the idyllic setting of the Fontanges chateau that we reserved for the occasion.


LB: You propose two brands of spas your customers?

BR: That is the SCP philosophy - being able to offer a variety of products and a wide range of prices to suit all budgets. We have full trust in our products and our partners and a genuine loyalty towards them. With Beachcomber, our European partnership dates back over 14 years, and 7 years with Garden Leisure.
What we want is to give professionals that motivation, that approach, to try out the spas to be able to understand their differences. Because knowing the difference between one model and another, is knowing, above all, how to better advise a client and delight him with a product tailored to his needs and his morphology. Being a good advisor to a client is being sure of satisfying him and preparing for the future. If he is satisfied, he will talk to friends and relatives, and thanks to that, more sales will be generated.
To satisfy customers in terms of price is one thing, but we must be able to justify the price in relation to the quality of the product.
In its various spa product ranges, SCP offers retail prices that are between € 6,000 and € 19,000 inclusive of VAT, but also a range of swim spas which rounds out the offer and makes it even more attractive.


Benoît Rivière, thank you for this interview which allowed us to better understand SCP's "well-being" philosophy.

Loïc Biagini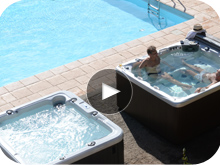 Check out our slideshow of SCP's Well-being Seminar in Rodez