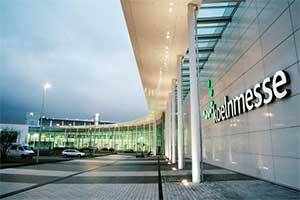 From 22 to 25 October around 300 exhibitors from 26 countries will be presenting their swimming pool and wellness-themed products and services at Germany's international trade fair for sauna, pool and ambience. Advance ticket sales for aquanale have also been very successful so far. For the first time ever, aquanale and FSB will take place exactly in parallel from 22 to 25 October 2013 in Cologne.
The swimming pool segments of both trade fairs will be presented in the adjoining Halls 10.1 and 10.2, where the areas for swimming pools and wellness will be clearly organized into theme worlds.
Moreover, a wide-ranging specialized supporting programme will once again provide experts and international trade visitors with added value and cutting-edge knowledge.

The giants in the sector will be exhibiting
Some of the suppliers that have already registered from the swimming pool and water technology, private swimming pool, sauna and spa, private spa and green living segments are Albixon, Alukov, Aqua Solar, Aqua Vogt, aquacomet, bevo, Caldera Spas, Chemoform, Dinotec, Dom Composite, elbtal, Fluidra, grando, Health Company, Hugo Lahme, Iberspa, Leisure Pool, Klafs, Pentair, Piscine Provence, Physiotherm, Procopi, Prominent, ProMaqua, Renolit, Riviera Pool, Rollo Solar, Saint Gobain, Schmalenberger Fluvo, Speck Pumpen, St. Karasek, Swimroll, Tintometer, Trendpool, Walter Piscine, WDT, Wellness Factory, Whirlpools World and Zodiac Pool Deutschland...
Of course aquanale's partner associations, the Federal Association for Swimming Pools and Wellness (bsw) and the Association for Sauna Construction, Infrared and Steam Bath Technology (BSB), will also have their own stands at the trade fair.
In addition, the "young innovators" and a group participation from China will also be exhibiting.
Saltwater: a fountain of health

a saltwater pool will provide relaxation for body and soul alike, and will confirm its reputation as a natural remedy. In cooperation with the magazine h+k_professional, Koelnmesse will present the "Salt" special show at aquanale. The show will cover an area of 60 square metres. Bathing in saltwater that has a high content of mineral salts, such as iodine, sulphur and radon, stimulates circulation, improves the complexion and strengthens the immune system.
Supporting programme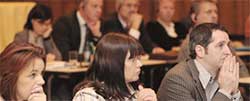 From 22 to 25 October 2013 the 5th Cologne Swimming Pool and Wellness Forum will further strengthen the synergies of the trade fair duo FSB and aquanale. Here FSB and aquanale visitors will get background information about current themes, trends and developments in the sector on all four trade fair days. For the first time, the forum will be located in Hall 10.1.
A new feature will be the PlanerFORUM for Pool Construction, which will take place on 22 and 23 October. This special forum will deal with the topics of pool planning, pool construction and pool renovation and is oriented to planners, architects and operators from the public swimming pool segment and operators of leisure pools and water parks.
Natural pools special show
People in Germany have known about natural swimming pools for some time. There are well over 5,000 swimming ponds that have been designed or already built in this country - and this figure is rising. Working in cooperation with its partners Lifepark GmbH, Corso Saunabau GmbH and the German Society for Near-Natural Swimming Facilities (DGfnB), aquanale will provide interested visitors with ideas and design suggestions for individualized natural swimming pools under the motto "Green Living".
EUSA Pool Award and bsw Marketing Award
For the first time, the European Union of Swimming Pool and Spa Associations (EUSA) will present an international European Pool Award. The award ceremony will take place on 24 October at aquanale. The European Pool Award will go to winners in three categories: private outdoor swimming pools, private indoor swimming pools and private whirlpool facilities.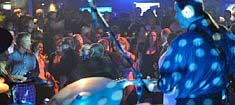 aquanight
aquanight is traditionally the high point of the programme of aquanale social events. This sector highlight will take place on Thursday evening, 24 October 2013 in the "Halle Tor 2" event venue. It will be a sector party featuring the live band "Fresh Live Music", a DJ, event cooking and lots of fun.