From 6th - 8th November 2013, be part of QPS 2013, a gate to establishing a wide network of business connections. QPS Business Push Up Program will help professionals to achieve business goals.

QPS 2013 Visitors Online Registration

Registration online (to upload and return) is available and avoids the long waiting lines. It is the most convenient solution to speed up an entry to the exhibition centre and start an enjoyable journey in a live and dynamic business atmosphere.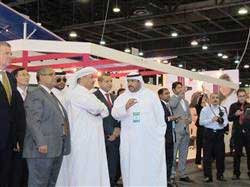 QPS is the Qatar's largest Pool and Spa exhibition, targeting thousands of industry professionals, suppliers, producers, manufacturers, distributors and visitors. It represents an outstanding and exceptional gathering of specialists from over 20 countries; all under one roof displaying their latest technologies and innovations in Water Features, Fountains, Backyard Equipments, Landscaping, Public & Private Pools and Aqua Parks.
Due to last year's SUCCESS; with the participation of 80 Companies from more than 18 countries and more than 5000 professional visitors from Qatar, GCC, Europe and Asia, QPS 2013 aims to attract more participants that will benefit from the 50 percent increase in the exhibition space.
Discover the Exhibitors list for 2013